About Us
We are proud to boast our extensive menu of various delicious gourmet pizzas with seafood, vegetarian and chicken toppings, engulfed with various other delicious tastes and flavours and topped with heaps of delicious, creamy cheeses to complete our divine pizzas. We also have the tastiest American Style ribs that will keep you begging for more, rich pastas, fresh green salads, ice cold drinks and the sweetest and most amazing Gelatos to end the perfect meal. Our store is based at 3/33 Emma Crescent, Constitution Hill, or order online; we look forward to serving you and your family!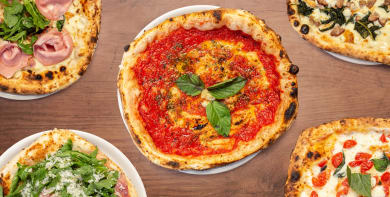 Reviews
52 reviews
Sam
"Excellent"
9/01/2021
Sam
"I don;t often eat pizza's but this one was one of the best i;ve ever had. I;ll be repeating my experience soon. Thanks"
19/12/2020
Spyro
"EXCELLENT!!! Great value and taste. It arrived much earlier than expected"
24/10/2020
Laurie
"Great pizza and on time"
11/10/2020
Menu
Barbados Extra Large
Spicy tomato salsa, snow peas, cheese, chicken breast, topped with chunks of avocado & pineapple
$18.60
Fifth Avenue Extra Large
Fresh chicken breast topped with mushroom, paprika & shallots on a bbq sauce base
$18.60
Thai Chicken Family
Fresh chicken breast on a mild coconut curry base topped with broccoli, red capsicum, snow peas & then drizzled with sweet chilli sauce
$21.80
Barbados Family
Spicy tomato salsa, snow peas, cheese, chicken breast, topped with chunks of avocado & pineapple
$21.80
Fifth Avenue Family
Fresh chicken breast topped with mushroom, paprika & shallots on a bbq sauce base
$21.80
Phuket Extra Large
Fresh chicken breast with red capsicum, shallots & a dash of carrot & roasted cashews on a bed of satay sauce
$18.60
Taj Mahal Extra Large
Tandoori base, fresh chicken breast, Spanish onion & red capsicum, topped with minted yoghurt or mango chutney
$18.60
Phuket Medium
Fresh chicken breast with red capsicum, shallots & a dash of carrot & roasted cashews on a bed of satay sauce
$16.40
Taj Mahal Medium
Tandoori base, fresh chicken breast, Spanish onion & red capsicum, topped with minted yoghurt or mango chutney
$16.40
Fifth Avenue Medium
Fresh chicken breast topped with mushroom, paprika & shallots on a bbq sauce base
$16.40
Thai Chicken Medium
Fresh chicken breast on a mild coconut curry base topped with broccoli, red capsicum, snow peas & then drizzled with sweet chilli sauce
$16.40
Barbados Medium
Spicy tomato salsa, snow peas, cheese, chicken breast, topped with chunks of avocado & pineapple
$16.40
Thai Chicken Small
Fresh chicken breast on a mild coconut curry base topped with broccoli, red capsicum, snow peas & then drizzled with sweet chilli sauce
$12.60
Barbados Small
Spicy tomato salsa, snow peas, cheese, chicken breast, topped with chunks of avocado & pineapple
$12.60
Phuket Small
Fresh chicken breast with red capsicum, shallots & a dash of carrot & roasted cashews on a bed of satay sauce
$12.60
Taj Mahal Small
Tandoori base, fresh chicken breast, Spanish onion & red capsicum, topped with minted yoghurt or mango chutney
$12.60
Fifth Avenue Small
Fresh chicken breast topped with mushroom, paprika & shallots on a bbq sauce base
$12.60
Phuket Family
Fresh chicken breast with red capsicum, shallots & a dash of carrot & roasted cashews on a bed of satay sauce
$21.80
Taj Mahal Family
Tandoori base, fresh chicken breast, Spanish onion & red capsicum, topped with minted yoghurt or mango chutney
$21.80
Thai Chicken Extra Large
Fresh chicken breast on a mild coconut curry base topped with broccoli, red capsicum, snow peas & then drizzled with sweet chilli sauce
$18.60
Bali Extra Large
Satay base with onion, red capsicum, fresh tomato, zucchini, snow peas, a dash of carrot topped with roasted cashews
$18.60
Bali Family
Satay base with onion, red capsicum, fresh tomato, zucchini, snow peas, a dash of carrot topped with roasted cashews
$21.80
Venice Family
Sun dried tomato, basil pesto, eggplant, ricotta cheese & olives
$21.80
El Paso Family
Pinto beans, fresh cut tomatoes, Spanish onion, red capsicum, hot Mexican salsa topped with chilli, corn chips, guacamole & sour cream
$21.80
Antipasto Family
Sun dried tomatoes, grilled eggplant, artichoke, roasted capsicum, topped with basil & mozzarella cheese
$21.80
Venice Extra Large
Sun dried tomato, basil pesto, eggplant, ricotta cheese & olives
$18.60
El Paso Extra Large
Pinto beans, fresh cut tomatoes, Spanish onion, red capsicum, hot Mexican salsa topped with chilli, corn chips, guacamole & sour cream
$18.60
Antipasto Extra Large
Sun dried tomatoes, grilled eggplant, artichoke, roasted capsicum, topped with basil & mozzarella cheese
$18.60
Santorini Family
Spinach with fresh tomatoes, shallots, parsley, mint and a touch of lemon juice topped with Greek fetta cheese, cracked pepper & roasted pinenuts
$21.80
Deluxe Marguerita Family
Ricotta, fetta, parmesan & mozzarella cheese, fresh tomatoes, basil & cracked black pepper
$21.80
Bali Medium
Satay base with onion, red capsicum, fresh tomato, zucchini, snow peas, a dash of carrot topped with roasted cashews
$16.40
Venice Medium
Sun dried tomato, basil pesto, eggplant, ricotta cheese & olives
$16.40
El Paso Medium
Pinto beans, fresh cut tomatoes, Spanish onion, red capsicum, hot Mexican salsa topped with chilli, corn chips, guacamole & sour cream
$16.40
Antipasto Medium
Sun dried tomatoes, grilled eggplant, artichoke, roasted capsicum, topped with basil & mozzarella cheese
$16.40
Santorini Extra Large
Spinach with fresh tomatoes, shallots, parsley, mint and a touch of lemon juice topped with Greek fetta cheese, cracked pepper & roasted pinenuts
$18.60
Deluxe Marguerita Extra Large
Ricotta, fetta, parmesan & mozzarella cheese, fresh tomatoes, basil & cracked black pepper
$18.60
Santorini Medium
Spinach with fresh tomatoes, shallots, parsley, mint and a touch of lemon juice topped with Greek fetta cheese, cracked pepper & roasted pinenuts
$16.40
Deluxe Marguerita Medium
Ricotta, fetta, parmesan & mozzarella cheese, fresh tomatoes, basil & cracked black pepper
$16.40
Antipasto Small
Sun dried tomatoes, grilled eggplant, artichoke, roasted capsicum, topped with basil & mozzarella cheese
$12.60
Bali Small
Satay base with onion, red capsicum, fresh tomato, zucchini, snow peas, a dash of carrot topped with roasted cashews
$12.60
Venice Small
Sun dried tomato, basil pesto, eggplant, ricotta cheese & olives
$12.60
El Paso Small
Pinto beans, fresh cut tomatoes, Spanish onion, red capsicum, hot Mexican salsa topped with chilli, corn chips, guacamole & sour cream
$12.60
Santorini Small
Spinach with fresh tomatoes, shallots, parsley, mint and a touch of lemon juice topped with Greek fetta cheese, cracked pepper & roasted pinenuts
$12.60
Deluxe Marguerita Small
Ricotta, fetta, parmesan & mozzarella cheese, fresh tomatoes, basil & cracked black pepper
$12.60
Basil Pesto and Cheese Pizza Extra Large
$11.50
Mixed Herbs and Cheese Pizza Extra Large
$11.50
Mixed Herbs and Cheese Pizza Family
$13.50
Basil Pesto and Cheese Pizza Family
$13.50
Garlic and Cheese Pizza Family
$13.50
Olive Pesto and Cheese Pizza Family
$13.50
Anchovy and Cheese Pizza Family
$13.50
Garlic and Cheese Pizza Extra Large
$11.50
Olive Pesto and Cheese Pizza Medium
$9.50
Anchovy and Cheese Pizza Medium
$9.50
Mixed Herbs and Cheese Pizza Medium
$9.50
Garlic and Cheese Pizza Medium
$9.50
Basil Pesto and Cheese Pizza Medium
$9.50
Olive Pesto and Cheese Pizza Extra Large
$11.50
Anchovy and Cheese Pizza Extra Large
$11.50
Basil Pesto and Cheese Pizza Small
$7.50
Mixed Herbs and Cheese Pizza Small
$7.50
Olive Pesto and Cheese Pizza Small
$7.50
Anchovy and Cheese Pizza Small
$7.50
Garlic and Cheese Pizza Small
$7.50
Ham and Pineapple Extra Large
Ham, pineapple
$15.50
Mexicana Extra Large
Pepperoni, beef, capsicum, onions, chilli
$15.50
Pepperoni Extra Large
Pepperoni, cheese & tomato base
$15.50
Aussie Extra Large
Bacon, ham & egg
$15.50
Bolognese - Traditional Pizza Extra Large
Beef mince & cheese
$15.50
Napoli Extra Large
Anchovies & olives
$15.50
Raymond's Extra Large
Cabanossi, prawns, bacon, mushroom
$15.50
Caprice Family
Ham, capsicum, mushroom, anchovies, olives
$18.50
4 Seasons Family
Ham, prawns, mushroom, capsicum
$18.50
Ham and Pineapple Family
Ham, pineapple
$18.50
Mexicana Family
Pepperoni, beef, capsicum, onions, chilli
$18.50
Pepperoni Family
Pepperoni, cheese & tomato base
$18.50
Aussie Family
Bacon, ham & egg
$18.50
Bolognese - Traditional Pizza Family
Beef mince & cheese
$18.50
Napoli Family
Anchovies & olives
$18.50
Raymond's Family
Cabanossi, prawns, bacon, mushroom
$18.50
Sid's Family
Pepperoni, bacon, capsicum, onion, pineapple
$18.50
Helen's Family
Bacon, capsicum, onion, pineapple
$18.50
John's Family
Mushroom, anchovies, olives, salami
$18.50
BBQ Chicken - Traditional Pizza Family
BBQ base, chicken, onion
$20.50
Garlic Prawns - Traditional Pizza Family
Tomato base, garlic, prawns
$20.50
Margherita Family
cheese & tomato base
$18.50
Marinara - Traditional Pizza Family
Seafood & garlic
$18.50
Vegrita Family
Fresh tomatoes, garlic, mixed herbs, olives, chilli
$18.50
Vegetarinana Family
Mushroom, pineapple, capsicum, onion
$18.50
Super Supreme - Traditional Pizza Family
Pepperoni, cabanossi, ham, bacon, beef, prawns, mushrooms, capsicum onion, pineapple, olives
$20.50
Sid's Extra Large
Pepperoni, bacon, capsicum, onion, pineapple
$15.50
Margherita Extra Large
cheese & tomato base
$15.50
Marinara - Traditional Pizza Extra Large
Seafood & garlic
$15.50
Vegrita Extra Large
Fresh tomatoes, garlic, mixed herbs, olives, chilli
$15.50
Vegetarinana Extra Large
Mushroom, pineapple, capsicum, onion
$15.50
Super Supreme - Traditional Pizza Extra Large
Pepperoni, cabanossi, ham, bacon, beef, prawns, mushrooms, capsicum onion, pineapple, olives
$17.50
Helen's Extra Large
Bacon, capsicum, onion, pineapple
$15.50
John's Extra Large
Mushroom, anchovies, olives, salami
$15.50
BBQ Chicken - Traditional Pizza Extra Large
BBQ base, chicken, onion
$17.50
Garlic Prawns - Traditional Pizza Extra Large
Tomato base, garlic, prawns
$17.50
Old Duck's Extra Large
Bacon, pepperoni, cabanossi, olives
$15.50
Rob's Extra Large
Pepperoni, onion, capsicum, mushroom, bacon, olives
$15.50
Emma Crescent Family
Ham, egg & cheese
$18.50
Meat Family
Beef mince, cabanossi, pepperoni, ham, bacon
$18.50
Supreme Family
Ham, cabanossi, capsicum, olives, mushrooms, onion
$18.50
Chicken Supreme - Traditional Pizza Family
Chicken, mushrooms, tomato base, onion, capsicum, pineapple
$20.50
Ham and Pineapple Medium
Ham, pineapple
$13.00
Mexicana Medium
Pepperoni, beef, capsicum, onions, chilli
$13.00
Pepperoni Medium
Pepperoni, cheese & tomato base
$13.00
Sid's Medium
Pepperoni, bacon, capsicum, onion, pineapple
$13.00
Margherita Medium
cheese & tomato base
$13.00
Marinara - Traditional Pizza Medium
Seafood & garlic
$13.00
Vegrita Medium
Fresh tomatoes, garlic, mixed herbs, olives, chilli
$13.00
Vegetarinana Medium
Mushroom, pineapple, capsicum, onion
$13.00
Super Supreme - Traditional Pizza Medium
Pepperoni, cabanossi, ham, bacon, beef, prawns, mushrooms, capsicum onion, pineapple, olives
$15.00
Old Duck's Medium
Bacon, pepperoni, cabanossi, olives
$13.00
Rob's Medium
Pepperoni, onion, capsicum, mushroom, bacon, olives
$13.00
Aussie Medium
Bacon, ham & egg
$13.00
Bolognese - Traditional Pizza Medium
Beef mince & cheese
$13.00
Napoli Medium
Anchovies & olives
$13.00
Raymond's Medium
Cabanossi, prawns, bacon, mushroom
$13.00
Helen's Medium
Bacon, capsicum, onion, pineapple
$13.00
John's Medium
Mushroom, anchovies, olives, salami
$13.00
BBQ Chicken - Traditional Pizza Medium
BBQ base, chicken, onion
$15.00
Garlic Prawns - Traditional Pizza Medium
Tomato base, garlic, prawns
$15.00
Caprice Medium
Ham, capsicum, mushroom, anchovies, olives
$13.00
4 Seasons Medium
Ham, prawns, mushroom, capsicum
$13.00
Emma Crescent Extra Large
Ham, egg & cheese
$15.50
Meat Extra Large
Beef mince, cabanossi, pepperoni, ham, bacon
$15.50
Supreme Extra Large
Ham, cabanossi, capsicum, olives, mushrooms, onion
$15.50
Chicken Supreme - Traditional Pizza Extra Large
Chicken, mushrooms, tomato base, onion, capsicum, pineapple
$17.50
Emma Crescent Medium
Ham, egg & cheese
$13.00
Meat Medium
Beef mince, cabanossi, pepperoni, ham, bacon
$13.00
Supreme Medium
Ham, cabanossi, capsicum, olives, mushrooms, onion
$13.00
Chicken Supreme - Traditional Pizza Medium
Chicken, mushrooms, tomato base, onion, capsicum, pineapple
$15.00
Helen's Small
Bacon, capsicum, onion, pineapple
$10.00
John's Small
Mushroom, anchovies, olives, salami
$10.00
BBQ Chicken - Traditional Pizza Small
BBQ base, chicken, onion
$12.00
Garlic Prawns - Traditional Pizza Small
Tomato base, garlic, prawns
$12.00
Caprice Small
Ham, capsicum, mushroom, anchovies, olives
$10.00
4 Seasons Small
Ham, prawns, mushroom, capsicum
$10.00
Old Duck's Small
Bacon, pepperoni, cabanossi, olives
$10.00
Rob's Small
Pepperoni, onion, capsicum, mushroom, bacon, olives
$10.00
Margherita Small
cheese & tomato base
$10.00
Marinara - Traditional Pizza Small
Seafood & garlic
$10.00
Vegrita Small
Fresh tomatoes, garlic, mixed herbs, olives, chilli
$10.00
Vegetarinana Small
Mushroom, pineapple, capsicum, onion
$10.00
Super Supreme - Traditional Pizza Small
Pepperoni, cabanossi, ham, bacon, beef, prawns, mushrooms, capsicum onion, pineapple, olives
$12.00
Aussie Small
Bacon, ham & egg
$10.00
Bolognese - Traditional Pizza Small
Beef mince & cheese
$10.00
Napoli Small
Anchovies & olives
$10.00
Raymond's Small
Cabanossi, prawns, bacon, mushroom
$10.00
Ham and Pineapple Small
Ham, pineapple
$10.00
Mexicana Small
Pepperoni, beef, capsicum, onions, chilli
$10.00
Pepperoni Small
Pepperoni, cheese & tomato base
$10.00
Sid's Small
Pepperoni, bacon, capsicum, onion, pineapple
$10.00
Old Duck's Family
Bacon, pepperoni, cabanossi, olives
$18.50
Rob's Family
Pepperoni, onion, capsicum, mushroom, bacon, olives
$18.50
Emma Crescent Small
Ham, egg & cheese
$10.00
Meat Small
Beef mince, cabanossi, pepperoni, ham, bacon
$10.00
Supreme Small
Ham, cabanossi, capsicum, olives, mushrooms, onion
$10.00
Chicken Supreme - Traditional Pizza Small
Chicken, mushrooms, tomato base, onion, capsicum, pineapple
$12.00
Caprice Extra Large
Ham, capsicum, mushroom, anchovies, olives
$15.50
4 Seasons Extra Large
Ham, prawns, mushroom, capsicum
$15.50
Piece of Pizza Special Salad
$9.50
Special Nutella Pizza
Plain nutella pizza
$13.90
Deal 6
2 x Extra Large Gourmet Pizzas, 1 x Garlic Bread, 1 x Soft Drink (1.25L)
$41.90
Deal 7
1 x Extra Large Traditional Pizza, 1 x Garlic Bread, 1 x Pasta
$28.00
Deal 5
3 x Extra Large Traditional Pizza, 1 x Garlic Bread,  1 x Pasta or Salad, 1 x Soft Drink (1.25L)
$55.90
Deal 2
2 x Extra Large Traditional Pizza, 1 x Garlic Bread, 1 x Soft Drink (1.25L)
$32.90
Tuesday and Wednesday Special
2 x Extra Large Traditional Pizza, 1 x Garlic Bread, 1 x Soft Drink (1.25L)
$28.00
Deal 3
2 x Medium Traditional Pizzas, 1 x Garlic Bread, 1 x Soft Drink (1.25L)
$30.90
Deal 4
2 x Family Traditional Pizzas, 1 x Small Garlic Pizza, 1 x Soft Drink (1.25L)
$43.50
Deal 1
1 x Extra Large Traditional Pizza, 1 x Garlic Bread, 1 x Soft Drink (1.25L)
$23.00
Garlic Prawns - Special Pizza Extra Large
Tomato base, garlic, prawns
$17.50
BBQ Chicken - Special Pizza Extra Large
BBQ base, chicken, onion
$17.50
Super Supreme - Special Pizza Extra Large
Pepperoni, cabanossi, ham, bacon, beef, prawns, mushrooms, capsicum onion, pineapple, olives
$17.50
Chicken Supreme - Special Pizza Extra Large
Chicken, mushrooms, tomato base, onion, capsicum, pineapple
$17.50
BBQ Chicken - Special Pizza Family
BBQ base, chicken, onion
$20.50
Super Supreme - Special Pizza Family
Pepperoni, cabanossi, ham, bacon, beef, prawns, mushrooms, capsicum onion, pineapple, olives
$20.50
Chicken Supreme - Special Pizza Family
Chicken, mushrooms, tomato base, onion, capsicum, pineapple
$20.50
BBQ Chicken - Special Pizza Medium
BBQ base, chicken, onion
$15.00
Super Supreme - Special Pizza Medium
Pepperoni, cabanossi, ham, bacon, beef, prawns, mushrooms, capsicum onion, pineapple, olives
$15.00
Chicken Supreme - Special Pizza Medium
Chicken, mushrooms, tomato base, onion, capsicum, pineapple
$15.00
Garlic Prawns - Special Pizza Family
Tomato base, garlic, prawns
$20.50
Garlic Prawns - Special Pizza Medium
Tomato base, garlic, prawns
$15.00
BBQ Chicken - Special Pizza Small
BBQ base, chicken, onion
$12.00
Super Supreme - Special Pizza Small
Pepperoni, cabanossi, ham, bacon, beef, prawns, mushrooms, capsicum onion, pineapple, olives
$12.00
Chicken Supreme - Special Pizza Small
Chicken, mushrooms, tomato base, onion, capsicum, pineapple
$12.00
Garlic Prawns - Special Pizza Small
Tomato base, garlic, prawns
$12.00
Sicily Extra Large
Pepperoni, anchovy fillets, mozzarella cheese, marinated artichoke, topped with olives and fresh ripe tomato
$18.60
Middle Eastern Family
Seasoned lamb mince with a bbq & hummus base with Spanish onion, red capsicum, cheese & then sprinkled with tabouli
$21.80
Tijuana Family
Spicy Mexican beef with pinto beans, Spanish onion, roasted capsicum with cheese chilli topped with guacamole sour cream & corn chips
$21.80
Sicily Family
Pepperoni, anchovy fillets, mozzarella cheese, marinated artichoke, topped with olives and fresh ripe tomato
$21.80
Union Jack Extra Large
Oven roasted potato on a tomato base topped with crispy bacon, cheese, sour cream, shallots & cracked black pepper
$18.60
Manhattan Extra Large
Tomato & sour cream base, roasted potatoes, salami, red onions & crispy bacon
$18.60
Tijuana Medium
Spicy Mexican beef with pinto beans, Spanish onion, roasted capsicum with cheese chilli topped with guacamole sour cream & corn chips
$16.40
Union Jack Medium
Oven roasted potato on a tomato base topped with crispy bacon, cheese, sour cream, shallots & cracked black pepper
$16.40
Manhattan Medium
Tomato & sour cream base, roasted potatoes, salami, red onions & crispy bacon
$16.40
Sicily Medium
Pepperoni, anchovy fillets, mozzarella cheese, marinated artichoke, topped with olives and fresh ripe tomato
$16.40
Middle Eastern Medium
Seasoned lamb mince with a bbq & hummus base with Spanish onion, red capsicum, cheese & then sprinkled with tabouli
$16.40
Middle Eastern Small
Seasoned lamb mince with a bbq & hummus base with Spanish onion, red capsicum, cheese & then sprinkled with tabouli
$12.60
Union Jack Small
Oven roasted potato on a tomato base topped with crispy bacon, cheese, sour cream, shallots & cracked black pepper
$12.60
Manhattan Small
Tomato & sour cream base, roasted potatoes, salami, red onions & crispy bacon
$12.60
Sicily Small
Pepperoni, anchovy fillets, mozzarella cheese, marinated artichoke, topped with olives and fresh ripe tomato
$12.60
Tijuana Small
Spicy Mexican beef with pinto beans, Spanish onion, roasted capsicum with cheese chilli topped with guacamole sour cream & corn chips
$12.60
Union Jack Family
Oven roasted potato on a tomato base topped with crispy bacon, cheese, sour cream, shallots & cracked black pepper
$21.80
Manhattan Family
Tomato & sour cream base, roasted potatoes, salami, red onions & crispy bacon
$21.80
Middle Eastern Extra Large
Seasoned lamb mince with a bbq & hummus base with Spanish onion, red capsicum, cheese & then sprinkled with tabouli
$18.60
Tijuana Extra Large
Spicy Mexican beef with pinto beans, Spanish onion, roasted capsicum with cheese chilli topped with guacamole sour cream & corn chips
$18.60
Boscaiola
Mushroom and bacon in a rich creamy sauce cooked with parmesan cheese
$10.50
Marinara - Pasta
Fresh king prawns, octopus, mussels, calamari, in a garlic & red sauce
$11.50
Napolitana
Rich tomato and herb sauce
$10.50
Bolognese - Pasta
Prime ground beef cooked in a rich tomato sauce
$10.50
Gamberoni
Garlic, onion, king prawn, roasted bacon, chilli in creamy tomato sauce
$11.50
Vegetarian
Roasted eggplant, onion, basil, semi dried tomatoes, mushrooms and spinach
$10.50
Smoked Salmon
Smoked salmon in a red sauce with a dash of fresh cream, red onions and capers
$11.50
Bejing Extra Large
Garlic king prawns, baby octopus topped with shallots, mozzarella & garnished with parsley & sweet chilli sauce
$19.60
Paradise Extra Large
Tomato & sour cream base, garlic, onion, king prawn, bacon, chilli
$19.60
Bejing Family
Garlic king prawns, baby octopus topped with shallots, mozzarella & garnished with parsley & sweet chilli sauce
$22.80
Paradise Family
Tomato & sour cream base, garlic, onion, king prawn, bacon, chilli
$22.80
Fu Choo Family
King prawns marinated in honey with broccoli, baby corn, red capsicum & then drizzled with honey & roasted sesame seeds
$22.80
Tuscany Family
Basil pesto, sun dried tomato, king prawns, ricotta cheese
$22.80
Alaska Family
Tomato & sour cream base, capers, cheese chunks of avocado & layers of smoked salmon
$22.80
Siddy's Family
King prawns with crispy bacon, mozzarella & drizzled with a sweet & sour & plum sauce
$22.80
Thai Sea Family
King prawns on a mild coconuts curry base topped with broccoli, red capsicum, snow peas & drizzled with sweet chilli sauce
$22.80
Fu Choo Extra Large
King prawns marinated in honey with broccoli, baby corn, red capsicum & then drizzled with honey & roasted sesame seeds
$19.60
Tuscany Extra Large
Basil pesto, sun dried tomato, king prawns, ricotta cheese
$19.60
Thai Sea Extra Large
King prawns on a mild coconuts curry base topped with broccoli, red capsicum, snow peas & drizzled with sweet chilli sauce
$19.60
Alaska Extra Large
Tomato & sour cream base, capers, cheese chunks of avocado & layers of smoked salmon
$19.60
Siddy's Extra Large
King prawns with crispy bacon, mozzarella & drizzled with a sweet & sour & plum sauce
$19.60
Bejing Medium
Garlic king prawns, baby octopus topped with shallots, mozzarella & garnished with parsley & sweet chilli sauce
$17.40
Fu Choo Medium
King prawns marinated in honey with broccoli, baby corn, red capsicum & then drizzled with honey & roasted sesame seeds
$17.40
Tuscany Medium
Basil pesto, sun dried tomato, king prawns, ricotta cheese
$17.40
Thai Sea Medium
King prawns on a mild coconuts curry base topped with broccoli, red capsicum, snow peas & drizzled with sweet chilli sauce
$17.40
Paradise Medium
Tomato & sour cream base, garlic, onion, king prawn, bacon, chilli
$17.40
Alaska Medium
Tomato & sour cream base, capers, cheese chunks of avocado & layers of smoked salmon
$17.40
Siddy's Medium
King prawns with crispy bacon, mozzarella & drizzled with a sweet & sour & plum sauce
$17.40
Alaska Small
Tomato & sour cream base, capers, cheese chunks of avocado & layers of smoked salmon
$13.60
Siddy's Small
King prawns with crispy bacon, mozzarella & drizzled with a sweet & sour & plum sauce
$13.60
Thai Sea Small
King prawns on a mild coconuts curry base topped with broccoli, red capsicum, snow peas & drizzled with sweet chilli sauce
$13.60
Paradise Small
Tomato & sour cream base, garlic, onion, king prawn, bacon, chilli
$13.60
Bejing Small
Garlic king prawns, baby octopus topped with shallots, mozzarella & garnished with parsley & sweet chilli sauce
$13.60
Fu Choo Small
King prawns marinated in honey with broccoli, baby corn, red capsicum & then drizzled with honey & roasted sesame seeds
$13.60
Tuscany Small
Basil pesto, sun dried tomato, king prawns, ricotta cheese
$13.60
Contact Us
Find Us
3, 33 Emma Crescent, Constitution Hill, 2145
We deliver to
2145 Constitution Hill, 2145 Girraween, 2145 Pendle Hill, 2145 South Wentworthville, 2145 Wentworthville, 2145 Westmead, 2146 Old Toongabbie, 2146 Toongabbie, 2147 Seven Hills, 2151 North Parramatta, 2152 Northmead, 2153 Baulkham Hills, 2153 Winston Hills